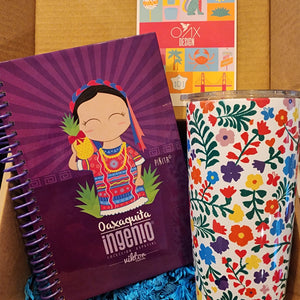 Looking for the perfect Mother's Day Gift? Well, you just found it! Let your mom know how much she means to you.
Also, the perfect gift for that amazing teacher. Let your teacher know how important is.
This kit includes:
Piñita notebook: Handcrafted notebooks. The paper sheets have an incredible design. I

t's inspired in the "Papaloapan" region of Oaxaca.

16.5 cm x 22 cm (6.5 in x 8.6 in).
San Antonino cup:  

It's inspired 

in the embroidery dresses from San Antonino Castillo Velasco town

.

Made of stainless steel.
Can hold up to 16 oz of cold or hot beverages.
Comes with lid.