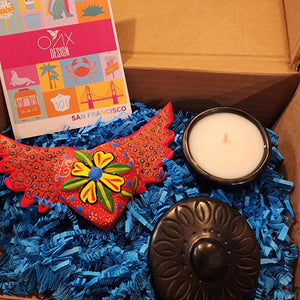 Looking for the perfect Mother's Day Gift? Well, you just found it! Let your mom know how much she means to you.
Also, the perfect gift for that amazing teacher.
This kit includes:
Alebrije heart with wings: Made of wood and painted using alebrijes technique. Measures: 17.7 cm (7 in) long and 7.7 cm (3 in) wide
Barro negro candle: It's made with soy wax, sandalwood scent. It contains two pieces: the cup and the lid.
Cup diameter 6.5 cm (2.5 in) height 3.5 cm (1.37 in). Lid diameter 7 cm (2.75 in).